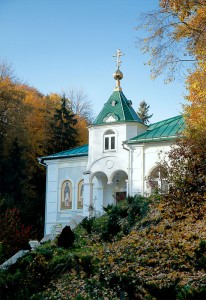 Holy Protection of Theotokos Goloseevsky Monastery (Sviyato-Pokrovskaya Goloseevskaya Pustyn) contributed for restoration of the hermitage (skit) in Tserkovschina (it became an independent monastery since February 2010) and building of the new Kiev Christian worship locality called the Saint Nicholas-Tikhvin Nunnery.

It is known from the Patericon that Venerable Theodosius Pechersky secluded himself in the Lavra caves during the Lent and nobody was aware that occasionally he retired in a countryside cave. According to the legend that countryside cave was hidden in an abandoned village Tserkovschina, located 12 km to the south from the Lavra. That was the beginning of the small cave Prechistenskiy Gniletsky monastery.

Ravage of Kiev in XIII-XV centuries led to the monastery's extinction and its subsequent devastation in XVI century. The only things left unchanged were the names of the abandoned village (urotchitche) Tserkovschina and the village Hodosovcka (or a misrepresented Pheodosievcka).

St. Innocent (Borisov) Archbishop of Kherson (1857, May 25 / June 7) renewed the access to the old caves. In 1900-1902 the new monastery in honor of Nativity of the Theotokos (called "The Most Pure One's Skit/hermitage") was founded near them with hieromonk Manuyil (Kovsh, 1920) – Venerable Iona of Kiev's disciple- as its abbot. In 1905 the ancient cave church was enlarged and consecrated in the name of St. Theodosius Pechersky.
.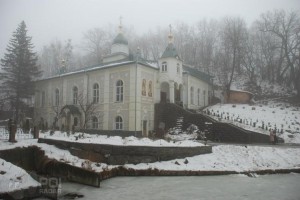 In 1920 Tserkovschina turned into a place of imprisonment. During the Great Patriotic War of 1941-1945 the monastery was reopened and existed till the late 1940s with the camp for prisoners of war in the neighborhood. Thereafter Tserkovschina's owners had been often changed, and the sanatorium "Ckhutor Volniy" for the Ministry of Internal Affairs of Ukraine was located there from 1969.

In 1999 the first divine service was performed with the participation of Archimandrite Isaac and the brethren of the monastery in the cave church in honor of St. Theodosius Pechersky. The same year, with the blessing of His Beatitude Metropolitan of Kiev and All Ukraine Vladimir, the men's hermitage (skit) of the Goloseev Pustyn was created in Tserkovschina. Its first head was the monk Joseph and his successor was the monk Kuksha. In October of 2001 Kuksha removed from the hermitage's control for his health reasons and the abbot Tikhon (Sofiychuk) who had entered the Goloseev Pustyn's brethren was appointed as another governor of the skit. In the beginning of 2010, due to the petition of Archimandrite Isaac, the Primate of the Ukrainian Orthodox Church His Beatitude Metropolitan Vladimir proposed the Holy Synod to consider the establishment of an independent monastery in Tserkovschina. On the 27th of February of 2010 such a decision was taken. The Father Tikhon (already Archimandrite) was appointed as the vicar of the monastery.
The monastery's address: 03026, Kyiv region, Ckhutor Volniy, Dnepropetrovsk highway